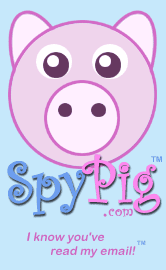 SpyPig
is a free simple email tracking system that sends you a notification email as soon as the recipient of the mail opens and reads your message.
SpyPig works by using a tracking image whose reference to its location on their server is embedded in your HTML email message. When the recipient opens your email, the tracking image will be automatically downloaded from their server, triggering the email opened alert on their system.
There are different types of tracking images available and you can also upload your own image.
Both you and the recipient of the mail must use an HTML email, not plain-text or rich-text email. Visit the Requirements & Limitations page to learn more about SpyPig.